YES Medspa & Cosmetic Surgery Centre
301-8837 201 Street
Langley, BC V2Y 0C8
Phone: (604) 888-9378
Cosmetic Surgery: Mon–Fri: 8:30 a.m.–4 p.m.
Medspa: Mon & Thu: 9 a.m.–7 p.m., Tue, Wed, Fri: 9 a.m.–5 p.m.

Otoplasty (Ear Pinning)
Many of us don't give much thought to the appearance of our ears, but for those whose ears are prominent, asymmetrical, or misshapen, ears can be a great source of insecurity. Otoplasty is a commonly performed procedure for reshaping one or both of the ears to bring them into balance with the other facial features.
Dr. Mathew Mosher is a Plastic Surgeon and a fellow of the Royal College of Physicians and Surgeons of Canada, and specializes in procedures such as otoplasty at his Vancouver area practice. He completed a highly sought-after fellowship in Aesthetic Facial Surgery, during which he learned advanced techniques that he uses in all of his cosmetic procedures, including ear surgery.
Otoplasty (Ear Pinning)

Before & After Photos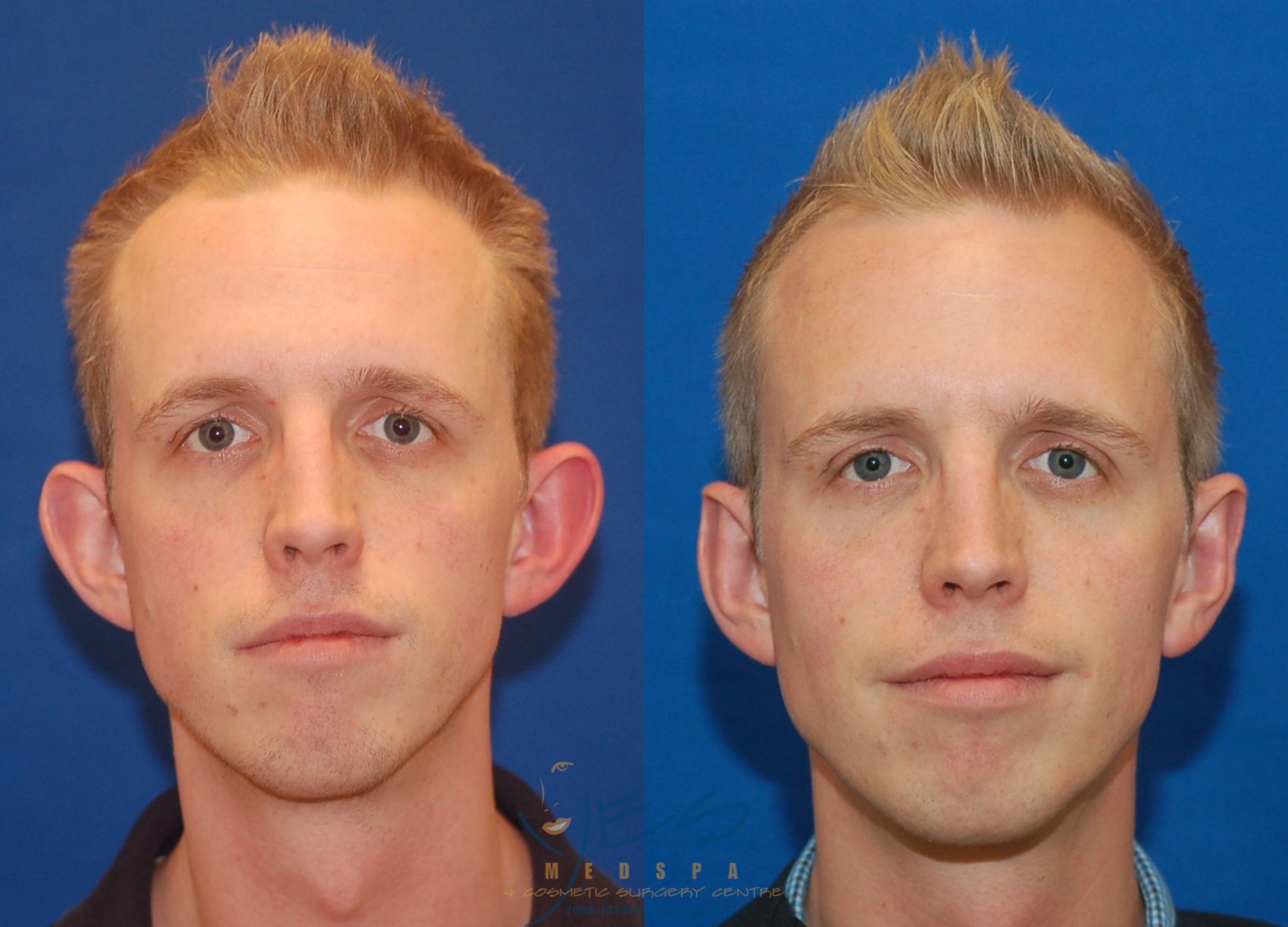 Before & After
Case #122
This 30 year old man wanted to improve the balance and proportion of his ears and make an improved first impression. Bilateral Otoplasty was performed. Otoplasty scars are very discreet and are hidden behind the ears.Photos were taken 3 months post op and he has been very pleased with the results.
Read More
Keep in mind that each patient is unique and your results may vary.
To learn more about how Dr. Mosher can help you enhance your appearance, click here to request a consultation at YES Medspa & Cosmetic Surgery Centre.
About Otoplasty
Otoplasty is a frequently performed procedure to reshape the ear or ears to create an improved or less conspicuous appearance. Quite often this involves bringing protruding ears closer to the sides of the head. This "ear pinning" procedure is fairly straightforward, and can improve the self-esteem of children or adults who may have been teased about prominent ears. In addition to ear pinning, otoplasty can be performed to:
Reduce the size of overly large ears
Make asymmetrical ears more equal in size or shape
Correct deformities in the cartilage of one or both ears
Because our cartilage is more flexible when we are younger, otoplasty works very well on children. Many children can have this procedure before entering school, thereby minimizing the potential for teasing and name-calling. However, Dr. Mosher regularly performs otoplasty on adults, who enjoy greater self-confidence after their ears are reshaped.
[feature-ba-showcase category=2]
YES Medspa
We offer proven, clinically-tested treatments that renew and refresh your appearance.
Learn More
Your Otoplasty Procedure and Recovery
This procedure is done under a light general anesthesia in most circumstances but may be performed under local anesthesia. An incision is made on the back of ear, and the cartilage is reshaped and held in the new position by permanent stitches under the skin. Dissolving stitches are used to close the skin incision. A head bandage is worn for 3 to 5 days after surgery to provide support as the ears heal.
Most patients report only minor discomfort following ear surgery, and this is typically managed with over the counter medication. Once the head bandage is removed, you can enjoy your normal activities and newly improved appearance. Dr. Mosher will recommend wearing a headband over the ears at night for approximately 6 weeks following your surgery.
If you live in or around Vancouver and otoplasty is something you are considering, click here to request a consultation with Dr. Mosher. Or you can call YES Medspa & Cosmetic Surgery Centre at (604) 888-9378 and one of the helpful staff will schedule your appointment.
Back to Top